Bed Sores? What are they and how are they treated?
See on Scoop.it – Pressure Sores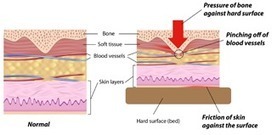 Bed sores are a very painful condition that affects many elderly or bed ridden people. Bed sores, or pressure sores, are tissue damage to the skin caused by prolonged pressure to one area of the body. They are especially prone to spots that are bony, like the knees, hips, buttocks and heels.
There are four different stages of pressure sores. Stage one the skin is still intact. The skin becomes red and is painful to the touch, sometimes the skin texture or temperature changes as well. Stage two is where the spot becomes an open wound. Sometimes it appears as a blister. Stage three occurs once the ulcer has become a deep wound, often times yellow in color due to the dying skin. Other layers of skin may also be affected at this stage. Stage four begins when there is massive tissue loss. Bone, muscle or tendons may become exposed.
Encompass HealthCare's insight:
Quadriplegics and paraplegics often acquire bed sores, due to the constant pressure of sitting in a wheelchair or lying in the same position in bed. Prevention is key.  However, if pressure sores have already developed, the patient needs thorough, comprehensive, and expert wound management attention. Remedies may involve wound debridement, IV antibiotics, hyperbaric oxygen therapy, skin grafts and flaps, and other wound-healing modalities.
Tags:
bed sores
,
hyperbaric oxygen therapy
,
non-healing wounds
,
paraplegic
,
quadriplegic
,
skin grafts
,
wounds